This is my blog about technical items, life, fun, activity, and soccer that I update infrequently. I would love to say that I update this daily but, that is not the case. I am a father of 4 kids and find myself surrounded by my family and fun. I am also technology lover and appreciate all things based on tech.
A Christian, Father, Husband, and Technologist
Email me with comments / ideas (jimiz@jimiz.net)
You can find out more about me at my About.me page (http://about.me/jbecher) or head on over to linkedin (http://www.linkedin.com/in/jimbecher)
---
Technology
You can find me working on my trusty Thinkpad. I'm currently editing code on VS2012 for both .Net apps and PHP apps. I try to keep an updated app list on this site, however it keeps falling out of date.
Blog
This blog has been active since Dec 15th, 2000. This little blog has gone through a lot of changes over the years. It started on an old cobalt server running chili asp. From that time it has evolved a lot. I found a screen shot from the wayback machine from
January 2002
At that time it was about soccer and life.As time moved on this little blog moved on to information
regarding
more soccer and then kids.
Jimiz – What is it?
I'm a huge Jimi Hendrix fan and loved the spelling of jimi with the 'i'. As a kid I was called Jimmy all the time. So having grown up skateboarding there was a brand called jimmyZ. I always thought it was just a cool surf company.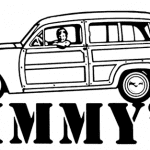 so I took that name and idea. Early on the internet I needed a username for sites that people were not using so Jimiz became my username and persona. I have kept it ever since.